In just a couple of months, I will be sitting (or more likely, standing) at my very first craft fair booth, which I will be sharing with my good friend and creator-extraordinaire, Melissa, over at Dixie West Designs. She is just starting out her blog but she's been crafting and creating forever, and you better believe you will see amazing things from her!
SO, I am *only slightly* obsessing. I've been to craft fairs aplenty but I've never been a vendor at one and I know that so much hard work is required to make your booth a success. I am in "research" mode now, learning as much as I can about what happens before, during, and after a craft fair from a vendor's perspective. One thing I definitely want to get RIGHT is the display of my work. I don't just want to get it right, I want to NAIL it. I want people to do a double take as they walk by.
Where to go for my craft fair inspiration? Well, the internet, of course (and we'll get to that), but I also happen to be at the Jersey shore right now and I needed to take a nice long walk on the Promenade in Sea Isle City in order for my summer Jersey trip to be complete.
First, a stop to get a smoothie – because it's blazing hot, and I had my two little ones in tow. You would think that since I live in Texas now, I would be used to the heat, but no. One mango and one strawberry smoothie please. COLD. REFRESHING. YUM.
Okay, thirst quenched, we continued walking and what did I see? It's farmer's market day! The perfect place to get inspired! Folks, I did not have to go far to find my favorite vendor booth. Check this out. A lovely woman named Shelley greeted me at this booth – not too pushy, not too stand-offish – just being totally herself  (note to self for craft fair – be myself – got it).
Shelley is in the T-Shirt making business, but these are not just any old T-shirts.  You can draw on these with chalk! "Chalkboard" T-Shirts, y'all! I love this! The business name? Why, Chalk Me Up, of course! Her display was simple and to the point, yet so colorful! I loved that I could shop around inside the booth.
Shelley let my four-year old write her name in chalk on a sample shirt and you KNOW the doodle wanted one. Of course, the doodle deliberating as to the size and color of the shirt was tedious, but Shelley was patient and friendly (note to self, be patient while customers shop and deliberate – even the four-year olds).
The Doodle settled on a blue T-shirt with a heart, and guess what! It came with a box of chalk! This is just ridiculously cute.
Shelley told me that she does a birthday package for a really good "per T-shirt" deal. If your little one has a birthday coming up and you are doing a party, how awesome would this be as the "party favor" that the kids could do artwork on and take home? The T-shirts wipe clean and can be drawn on again and again. Here's a little doodling on the doodle's shirt for ya':
Okay, now that I am totally amped to set up my own booth, I am scouring the internet for more craft fair inspiration and wisdom. I went straight to good old Pinterest and found some super informative articles and creative display images. Being at that Farmer's Market today and seeing all these awesome ideas online has me buzzin' like a cheap TV!
I created a craft fair inspiration board on my Pinterest which you are, of course, welcome to check out and follow, but here are some of my faves so far:
I love this whole post from Hand and Seek, but especially the idea to use drying racks. I'll have a lot of items that would do well on a hanging display, and this seems like a simple and inexpensive way to do that. I also love the lighting. I don't think I'll have that option this time around, but it's so pretty!
Next up, Refresh Restyle shows how to refresh a ladder to make it into cool shelving! What a great idea! I know I have a ladder somewhere…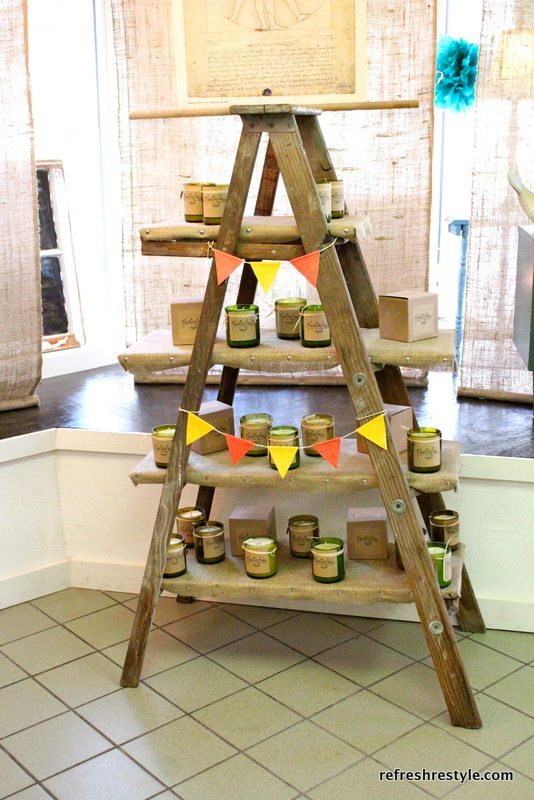 Fabric scrap garland to spruce the place up from Lucky Star Lane!? Yes, please. You know I have tons of fabric scraps! And don't think I didn't notice that Kanzashi Flower (see my post about those awesome little things HERE)!
And last for today, this simple clothes line display from Jennifer Rizzo would be perfect for my colorful large laundry bags!
I'll be keeping you up to date on all my craft fair research and adventures so feel free to subscribe and follow along to gather your own inspiration if craft fairs are your deal! Speaking of, do you frequent craft fairs? What are some of your favorite types of displays and crafts to check out?